Case Study: Single Mum Without Powers of Attorney
Sara is a single mother raising her four-year-old daughter Michelle and two-year-old boy Matthew. Although she was devastated that her relationship with the father of her children failed, she has really embraced being able to do things her own way. She gets to choose what her children eat, what they watch, when they sleep, and where they go to daycare.
On the other hand, she moved away from her own home town to live with her ex-husband. But since the relationship broke down, she has stayed in her new town instead of moving back close to her family. She doesn't have any of her own family to rely on if she is exhausted or unwell.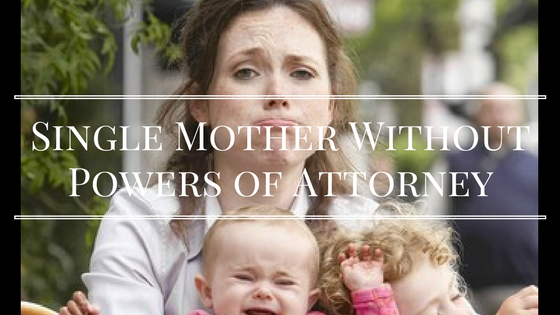 Michelle is very intelligent, and highly sensitive. Sara suspects that she may be slightly autistic, but has not pursued a diagnosis with a paediatrician. Michelle thrives on routine, but equally she becomes very distressed and anxious when something out of the ordinary happens.
Matthew is mummy's baby. Sara sought comfort in him as an infant when her relationship broke down. He likes cuddles with his mother and glows in her presence. He is bubbly and happy with almost everyone, but only for short periods. He needs his mother.
Sara's ex-husband is immersed in a new relationship and has just had a new baby. He is only seeing the children one day every second weekend, and is really only doing this at the prompting of Sara. He has not showed any interest in learning their routine, and he expresses impatience and frustration with Michelle's quirks.
Sara works as a payroll officer three days per week, from nine in the morning until three in the afternoon.
It's an ordinary day, and Sara bundles the children into the car to get them to daycare in the morning. Matthew starts to cry as soon as they pull out of the driveway. Michelle explains that he has forgotten his latest comfort toy: a zebra-striped pillow pet. Sara sighs inwardly and lets Matthew know that the pillow pet will look after the house and will be waiting for him when he gets home. Matthew sniffles all the way to daycare, and then he is clingy when Sara tries to hand him over to his room coordinator. Sara kisses him goodbye and wishes she didn't have to leave him, but she also wishes that he didn't make her feel so guilty about leaving. Michelle, on the other hand, marches off without hesitation and tells Sara that she will see her this afternoon.
Later, after an ordinary day in the office, Michelle decides to do a half hour circuit at the Curves gym that she is a member of. It is right at three o'clock, and it won't hurt for the children to be picked up a little bit late. There are other children at daycare who are there for much longer than her two.
Feeling energised and like she's really treated herself, Sara is buoyant and looking forward to picking up Michelle and Matthew.
But as she takes off through an intersection when her light turns green, a large 4×4 utility vehicle slams into the front driver's side of Sara's car and drives over the front of her car. It ran a red light.
Sara is dazed, and she is stuck in the car for hours as emergency crews try to cut her legs out of the crumpled front of her car. She has taken a hard hit, her neck has whiplash and she is in shock. Her purse and ID were all in the foot-well on the front passenger side, and are stuck in the mangled vehicle. The emergency crews are working to free her, more importantly, than looking for her ID.
After three hours, Sara is out of the car and is taken to hospital. Her legs have been crushed and her spine has been bruised. She is likely to fully recover, but there will be months of hospital visits and rehabilitation ahead of her.
When the emergency crew got Sara out of the car, they then recovered her purse and put it in with her on her way to hospital. Other than her driver's license, bank cards and loyalty cards, there is no other information on her about who her next of kin are and whether she has children or not. Sara's phone was crushed and couldn't be accessed without a security pin number anyway, which Sara is in no state to provide even if the phone was working.
The daycare centre is getting worried when Sara hasn't arrived to collect Michelle and Matthew by 5 o'clock. This is usually the latest that she would ever be. Matthew is whimpering and clingy with the caretakers, and Michelle is waiting patiently near the front hall. She cannot be engaged by any of the caretakers to play. The daycare centre tries calling Sara, but her phone goes straight to voicemail. They contact her employer, but they confirm that she left at 3 o'clock as usual.
Sara's next of kin is her mother, so the daycare centre tries calling her, even though they recognise that it is an interstate number. The phone rings and rings, and then goes to a message service, as Sara's parents are taking a caravan holiday for three weeks. Even if she answered the phone, it would be three hours before Sara's mother could drive to collect the children.
Although they know it's a last resort, the daycare centre does have contact details for Michelle and Matthew's father. They call him. He is angry to have been contacted. He is angry at Sara's irresponsibility for not collecting the children. He is in no rush and says he will be able to arrive in an hour, and asks that they call him back if Sara arrives in the meantime.
Most of the daycare centre staff leave for the day, and the manager stays behind with Michelle and Matthew. She feeds them a cold dinner just before their father arrives. He is abrupt with them and demands to know from the manager what he is supposed to do with them. Matthew looks at him tearfully, and Michelle looks at the floor, pulling on a hank of her hair. The manager suggests that he take them home and put them to bed.
It is a horrible night for both Michelle and Matthew, and for their father and his new family. He doesn't have adequate facilities for them, and Matthew is inconsolable because he wants his pillow pet; he really wants Sara.
Eventually the police track down Sara's next of kin and they ensure that the children are safely with their father. Their father learns that Sara is in the hospital and likely to stay there for months. He is unprepared and doesn't know his own children.
With only short visits to see his mother over the coming months, Matthew is regressing. He is constantly tearful and pretending to be a baby so his father's new partner will cuddle him like her own infant.
Michelle is showing more worrying signs. She has been found pounding her forehead against a wall, and she has torn a number of chunks out of her hair. She is not talking or engaging.
When Sara is finally released from hospital, she wants to spend as much time with her children as she can. She can see the effect that her absence has had, but she does not have income protection insurance so she has to go back to work within a week of coming out of hospital. The children's recovery is longer than her own.
If Sara had an In Case of Emergency card in her purse, and some close friends who had instructions in case she had such an accident, then they could have been contacted and stepped in to act in the place of their father. If she had made an Enduring Power of Attorney, she would have had someone appointed to care for her children temporarily, for the three months in hospital, instead of their father.
Make sure you have some plans in place and have an emergency contact who can get to your children. Make sure you have a process by which your emergency contact can be contacted easily.