The Importance of having a Solicitor for your conveyancing, and what is a Section 32?
by Melitta Hill
Conveyancing is a necessary process in buying or selling property. A professional conveyancer or conveyancing solicitor helps with the settlement and title transfer process by ensuring that their client is meeting all legal obligations and that their client's rights are protected during this transaction.
In short, the role of a conveyancer/Solicitor is to make the process run more smoothly for you and to ensure that – for instance – no inconsistencies in paperwork stand in the way of you and your property transfer. Conveyancing services can be invaluable when buying or selling property.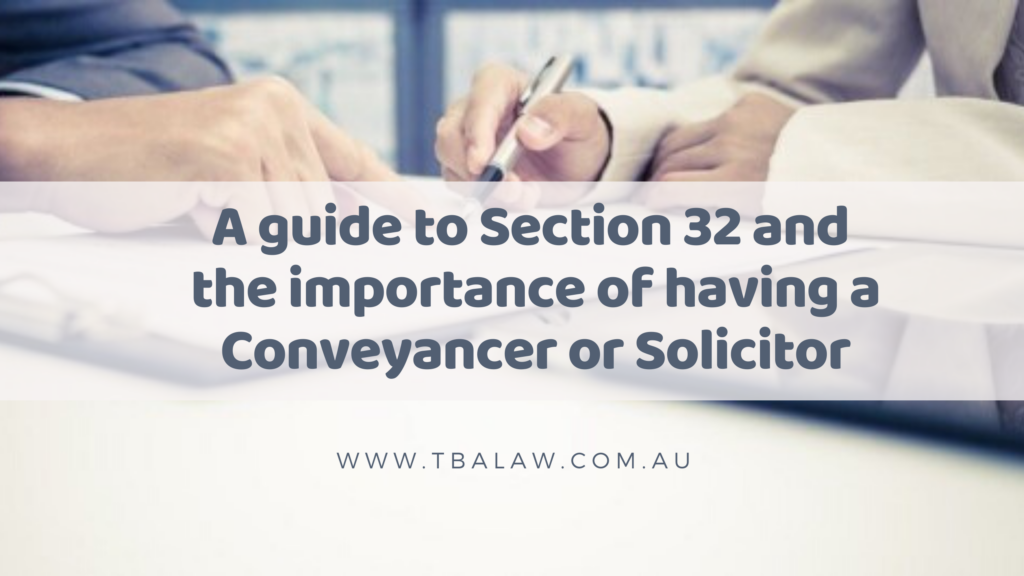 When you hire a conveyancer, it is their job to act on your behalf in your purchase or sale of real property. Some of their duties within this role include:
Reviewing your Contract of Sale;
Preparing a Section 32;
Ensuring that you are prepared for critical dates;
Liaising with banks;
Liaising with lawyers and conveyancers on the other side of the sale;
Ensuring that all of your relevant documents are prepared and in order (such as the Section 32 Vendor's Statement and the Section 27 Early Release of Deposit form, if relevant);
If you have a mortgage, ensuring that your bank is ready for settlement – particularly important as your bank won't release the Title to your purchaser unless the mortgage is paid.
Should you be on the buying end of the property transfer, your conveyancer will perform the additional duties of:
Helping ensure you make the relevant application to a bank for finance to fund the purchase;
Advising you whether or not you should consent to an early release of the deposit;
Reviewing the Section 32 to make sure everything is in order;
Liaising with your bank to ensure correct funds are available at settlement;
Organising settlement with banks and those on the other side.
Something that has probably been made clear at this point is that the transfer of property involves a lot of specialised knowledge that most people don't possess. However, these areas where specialised knowledge is required are absolutely fundamental to ensuring the process runs smoothly – or runs at all.
Conveyancers are therefore important predominantly due to our expertise in the specifics of property transfer, as well as their capacity to organise on your behalf.
Our Conveyancer/Solicitor is probably required more now than ever, since the roll over to electronic Conveyancing in Victoria.  Gone are the days of paper settlements where all parties involved met at a venue, exchanged documents and cheques.  These days all settlements occur via the electronic platform known as PEXA.  It is a much more efficient and faster settlement process.  Funds are automatically transferred to bank accounts and in most instances are available in the Vendors' account within a couple hours of settlement.  No more waiting 3 days for bank cheques to clear!  Titles are registered almost immediately too – this means that the Purchaser will be shown on title as the new owner shortly after settlement is effected.
Section 32
I also wanted to clarify exactly what a Section 32 or Vendor Statement is.
A vendor's statement – is also known as section 32, because it is prepared in accordance with Section 32 of the Sale of Land Act.  This is a document that tells potential buyers certain things about the property title they should know before signing a contract to purchase. It must include all the information that may affect the state of the property, especially where such information may affect the decision of the buyer.  This document contains information about outgoings payable on the property, any building permits issued in the last 7 years, any notices issued on the property.  It will disclose anything on title, including mortgages, caveats, covenants or agreements.
A Vendor's Statement is valid for as long as it is correct. There is no fixed expiry date.  Generally speaking, a financial year is usually the time frame as rates and charges tend to change at the start of a new financial year.
If you have any queries, please do not hesitate to contact the team at TBA Law.  We'd be happy to help!
For more information about our full range of property law services, click here.