How do I nominate a guardian for my children?
by Jacqui Brauman
When you appoint a godparent for your child, if that's something that you've done, it's not illegal appointment.You do actually need to put in your Will, who is going to have the guardianship responsibilities for your children, if something happens to you.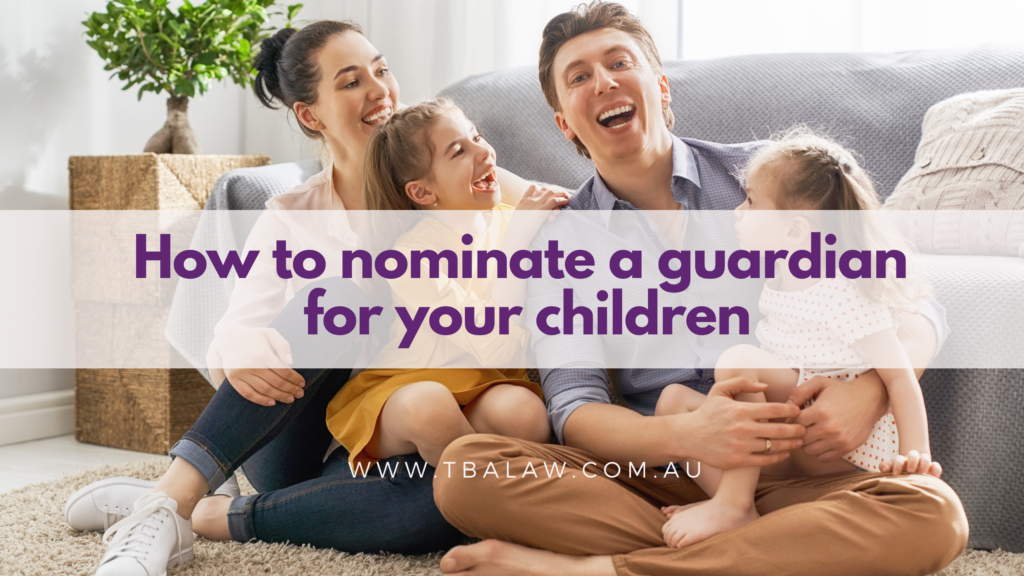 It doesn't have to be family
When thinking about who should be nominated as a guardian, don't just restrict yourself to thinking of family. Family could be a great option, if they are close by or they can take that on. But a lot of us only think about family because we think there's an obligation because we're related.
In fact, if you think deeper about it … who's going to bring up your children in the way that you want them to? And if it's family, that's great.
But if your siblings have grown apart from you and your values are different, if some of your siblings don't have children, if the way you want your children raised is very different to the way they're raising theirs, then that's something that requires a little bit more thought.
Perhaps there's some close friends nearby rather than family, particularly when you think, "I want my kids to stay in the same community where I'm living, potentially even in the same house, and to stay at the same school". So a friend could be more suitable than a family member.
The cost of raising my kids
People often think they should appoint family, because they think that it's too difficult to put that financial obligation onto friends, whereas family should be obligated.
Rethink that … because the inheritance that your children have put away for them is available to be used by the guardians for their upbringing.
School fees, extracurricular fees, the extra uniforms, all those sorts of things can be paid for out of what they've inherited. So having a guardian that's going to work closely with the people who are looking after the money for your children is really important.
It's often best to have an overlap between who theguardian is ,and who the executors are.
Not a couple, if you can help it … and have a back-up!
When you're thinking about guardians, and you're thinking about nominating a couple, it's better to choose one person out of the couple, in case something happens to that couple.
Then maybe have a backup as well, just in case your first choice is unable or unwilling at the time.
We all know things can change quickly.
Your Wills aren't written in stone, but it can be difficult to get them changed quickly. So build the back-ups in while you can, and then you don't need to change it later.
Do you need more information? Get in touch with our team on 1300 043 103 or at [email protected]
WATCH our video and find out the things to consider when naming guardians for your children.