Kilmore Bypass and Compulsory Acquisition
The Victorian government has the power to compulsorily acquire land that it requires. You can't prevent them from doing it; so what is the process and what can you get out of it?
After VicRoads has reserved the land under a planning instrument with the approval of the Minister for the Department of Transport, Planning and Local Infrastructure, they can then issue a Notice of Intention to Acquire. This Notice of Intention must be issued to the owner of the affected land, along with anyone else that has an interest in the land, such as a tenant or the holder of an easement.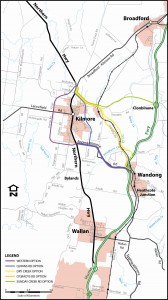 The Notice of Intention to Acquire is not a casual letter, it is the beginning of the formal process and:
gives VicRoads the authority to negotiate a voluntary sale agreement with any land owner that is willing to do so,
it commits VicRoads to the procedure,
it prevents the owner from otherwise dealing with the land (ie. selling it)
it identifies the exact land, and
it may state the date VicRoads wishes to take possession.
The Notice of Intention is not a notice that the owner will be evicted immediately or on a specific date. But you do not have a right to object or have the decision reviewed.
When VicRoads publishes a Notice of Acquisition in the government gazette, the land is then compulsorily acquired. The land is owned by VicRoads, and the owner or other interest holder only has a right to compensation. The owner will often remain in possession of the property for some months or longer, until VicRoads actually wants possession.
The date for valuing the land is then the date of the publication of the Notice of Acquisition. This is how compensation is determined. This is also when you should, if you haven't already, engage a lawyer who can manage the negotiation process for you and get the best compensation possible.
VicRoads must make an Offer within 14 days of the Notice of Acquisition. You must respond to this offer within 3 months. You can accept the Offer. But usually the response will be a Notice of Claim, and your solicitor will have obtained their own valuation and be asking for higher compensation than VicRoads offered.
Your compensation should not only include the market value of the land, but also any special value, an amount of severance loss, an amount for disturbance loss, usually a solatium, and you should always claim for your legal costs and other expenses resulting from the resumption. VicRoads does pay all your legal costs in these matters.
Having a solicitor help you with this process, and having your solicitor engage an experienced valuer, will help you get the best compensation possible.
If you need assistance, Jacqueline Brauman has been involved in compulsory acquisitions in New South Wales and Victoria, including the Nagambie bypass by VicRoads more recently and other reserve acquisitions by Greater Shepparton City Council.