Moving into a retirement village
by Jacqui Brauman
This could be just moving into an over-55s living facility, rather than into aged care, but you need to know the main types of arrangements under which people can move into a retirement village.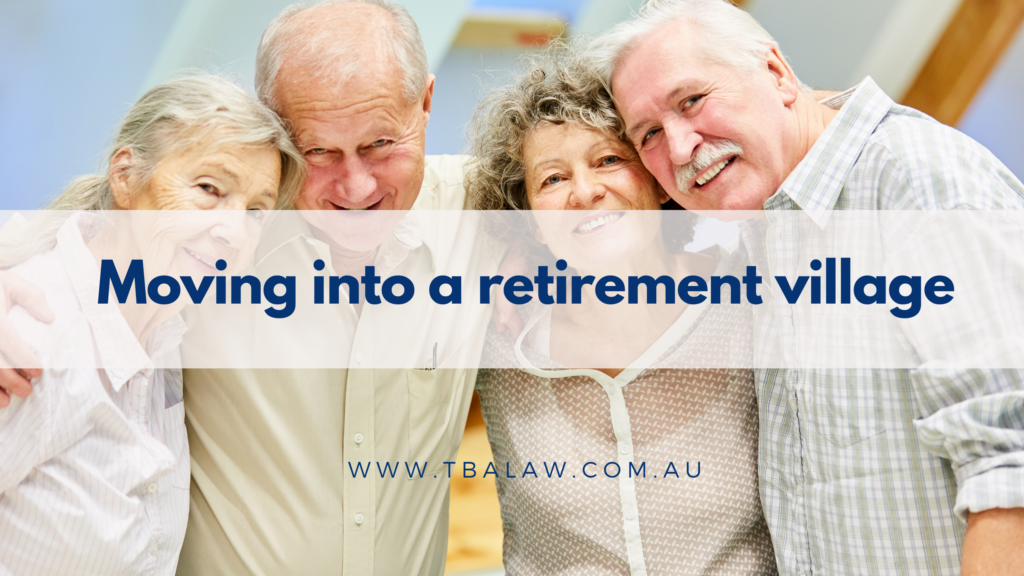 Rent land and own the building
A lot of over-55 communities are set up where you actually lease your site. So you pay an ongoing weekly or monthly amount of rentfor the site, which also contributes to the maintenance of the community. So there's some maintenance of the front yards and the communal space. There's often a community hub where events are arranged.
Then you actually usually own the building that is on that site. So you don't have your name on any Title because you're renting the land … but you own the building. So there is something actually to sell, should you need to move on, or you pass away.
The other two main types of retirement villages are usually more expensive than just owning the building and then renting the land.
Own outright
So there are types of facilities where you go in, and you actually do get your name on something. You pay a fair bit more for those sorts of units. You would still pay some monthly or annual fee to the manager of the facility because there's still grounds maintenance and often a community centre.
But in this option, your name is actually on the Title of that unit. Quite often, these arrangements also have some kind of emergency button. They don't provide care, but at least someone's around to check on you if there's a fall or something wrong.
So in this version, you own the unit. However, you often sign terms to abide by the rules of the community. Also, the managing company often has the right to resell the unit for you. So you can't just put it on the open market, because they want to vet who comes in and out. Often, they build in what their fee is to do that. And they often require a complete refurb, no matter how short or long you were there for.
Lease
A similar sort of arrangement to having your name on Title, is where you actually only get a 99-year lease registered on Title in your name. So your name still goes on the Title as leasing it, but the managing company still owns the property.
Again, you sign up to the conditions of living in the community. Part of those conditions are that they would on-sell that lease if something happened to you. More likely than not, you're not going to live there for 99 years. So there's still a term of a lease that they can on-sell to someone else after you've moved on.
Quite often when you're leasing, you also end up owning some shares in the managing company. So that then actually gives you some more security than just a lease. Because you do actually have some ownership right, along with all the other residents of that management company.
Conclusion
There're pros and cons of each retirement village option. Higher initial costs v higher regular ongoing costs; ownership security v contract only; and level of management control and selling fees.
Understand when you leave some of these places, the amount of money that comes back to you might be a fair bit less than what you put in.
Do you need more information? Get in touch with our team on 1300 043 103 or at [email protected]
WATCH our videos and learn more about moving into a retirement village.