New book – Sandwich Generation
Who is the 'sandwich generation'? You are the generation that is stuck between your adult children and your elderly parents. You have obligations to both of them, and you thought you'd have some freedom by now! You are torn between them. Just when your children should be grown up and gone, your parents decline and you need to keep an eye on them.
My advice (and it's a bit cliche) is to make sure you look after yourself first! I mean this in more ways than just physically and emotional caring for yourself. I mean you should get your affairs in order. Because if something happens to you, everything revolves around you, and the others won't manage unless you have a proper plan organised.
Take control.
Get your estate planning in order – your Will, your Powers of Attorney, your superannuation, your instructions about your medical care, instructions about your funeral, and have all your main paperwork in one place, including copies of all your usernames and passwords for all your digital accounts.
Once you have your own Will and Enduring Powers of Attorney organised, and you have left lists about who should get what, and you have made a detailed record of all your online accounts, and you funeral insurance is organised … then you can make sure you talk to your parents about their estate plan.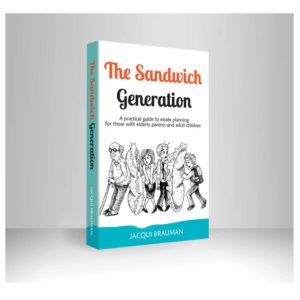 You don't want to be left trying to administer the estate of your intestate child, with a dispute over the superannuation as well – if your child dies without a Will, it can be time consuming and costly.
This latest book by Jacqui is your guide, as a member of the sandwich generation, about everything you need to know about estate planning for yourself, as well as what you need to make sure your parents and children consider. This book will give you a great starting point to be able to seek out the further advice and guidance to get your planning done properly – to make sure life is easier for everyone.
[maxbutton id="2″]