Is Your New Year's Resolution to Get Your Finance in Order in 2018?
Among the most common New Year's resolutions are:
Get fit

Start a new particular hobby

Spend more time with family or looking after yourself

Quit smoking, and

Get your finances in order.
If your resolution is to get your finances in order, then we would like to suggest that you do a complete job, and also get your estate planning in order as the same time.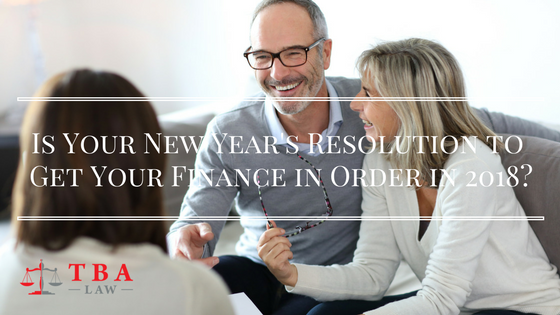 What does estate planning involve?
Primarily, it's your contingency plan, if you die or have a serious injury. You need Wills and Powers of Attorney in place for these scenarios, particularly if you have young or disabled children.
Estate planning also looks at your assets to make sure that they are protected as best they can be for your situation, and also looks at your superannuation.
What most super funds don't tell you
If you die, superannuation can only be paid directly to a limited category of people – your spouse or your children. If you don't have anyone in these categories, or you want to avoid someone, then you need to make sure you take control of your super fund nomination.
Most of you will know that you can nominate a beneficiary on your super fund, but your super fund won't tell you if the nomination is valid or not. Nor will they tell you if the nomination will even be binding on them.
Nominations also expire every 3 years on most super funds, so you have to make sure you keep re-submitting the nomination form.
How we can help
We can help you through this whole process. In our initial appointment, we get your family tree and all your asset details. We talk about guardians for your children, and talk about trusts in your Will. We guide you through, so it's easy.
With a couple of contacts by phone and email in between appointments, at the second appointment we should have everything ready for you to sign – Wills, Powers of Attorney, Advanced Healthcare Directives, Digital Estate details (if necessary), and Binding Nominations for your super fund.