Pet Registration, "Oscar's Law", and What it Means for You
The popularity of dogs and cats as domestic pets is well documented, and for many people, the pets they share their lives with are important members of their family.  It is estimated that there are over 4 million dogs in Australia, whilst nearly 30% of households own a cat. In Strathbogie Shire alone, over 2000 dogs have been registered over a 12 months period.
Do I have to register my pet dog or cat?
Yes! All dogs and cats over 3 months of age must be registered with the local council. Pet registration comes due on the 10 April each year, and your pet will be issued with a pet registration tag to be worn on their collar. A small fee is required each year to register your pet, and discounts are available for in some circumstances, such as for pets that are neutered, dogs that are obedience trained, or dogs and cats registered with an Applicable Organisation such as a State Kennel Council. Dogs working stock on farms are also dealt with differently than pets. There are large fines for anyone caught with an unregistered dog or cat, so pet registration is important. Council regulations do vary so pet owners should always speak to their council regarding pet registration.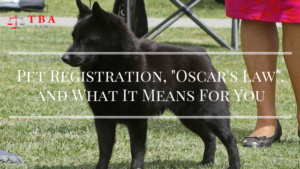 How many pets can I have?
This can vary depending on the local council, and the area you live in. People living in residential estates will generally be allowed 2 dogs or cats to be registered. If someone wishes to have more than 2 pets they will need to apply to their council for a permit for the additional animals. This will involve a fee and may require the neighbours consent. Some councils will allow a greater number of dogs and cats to be housed on a property if the property is on acreage or is zoned as Farming rather than Residential. For example, Mitchell Shire allows up to 6 dogs and 4 cats on properties zoned as Farming, while Strathbogie Shire may have different regulations for properties larger than 0.4 of a hectare in size. 
Do I need to tell the council when my pet has died?
Yes. If you no longer have your pet because it has passed away or been rehomed, you need to inform your local council or you could be liable for a fine of over $300 for failing to re-register your pet on the 10 April each year. Do not rely on your council asking you if you still have your pet, in most cases they will simply issue you with the fine. Although it may be an upsetting time, it is important to prioritise this to prevent the hassle involved in attempting to have council forgive your fine after it is issued.
Can I breed my pet? Do I need a permit for that?
There is a new piece of legislation that will affect the majority of people who own or plan to own a pet dog, cat, puppy or kitten in the future. People who have not neutered their pets, or people who choose to breed with their pet, will also be affected by the new laws. The aim is to protect animal welfare through maintaining certain standards in dog and cat breeding, and reducing the number of large scale breeding facilities that place profits ahead of animal welfare and conditions.
Enter Oscar's Law – or 'The Domestic Animal Amendment (Puppy Farm and Pet Shops) Bill 2016'!
For many people, where their next puppy or kitten comes from is an extremely important factor in their choice of pet, while others have found themselves having an unplanned litter of puppies or kittens when their pet has escaped their yard whilst in heat. Others are 'hobby breeders' and breed their dog or cat occasionally and are not in the business of breeding and selling domestic pets for profit.
What about breeders?
If you are a small breeder or would like your pet to have a litter of puppies or kittens before they are neutered, there are some new laws that will affect what you are required to do in order to have that litter. You must understand how the new legislation differs between small and large breeding establishments, whether you fall into the new category of 'recreational breeder', and what this means.
What is a recreational breeder?
A recreational breeder is someone who has up to two fertile female dogs and is not a member of an Applicable Organisation, or have between 3 and 9 fertile female dogs or cats, and is a member of an Applicable Organisation (such as your State Kennel Council or Cat Society). Recreational breeders are not classed as Domestic Animal Businesses but they are required to be registered with their council from 10 April 2018 and will have to comply with the Code of Practice for Breeding and Rearing Businesses 2014.
Anyone with over 9 fertile female dogs or cats are not recreational breeders and must be registered as a Domestic Animal Business.
What is the Pet Exchange Register (PER)?
The PER is a new requirement under the new laws, and will affect everyone who advertises to sell or gift a puppy, kitten, dog or cat. Registration on the PER will be current for 1 year, and those registered will be prescribed a Source number. This source number MUST be listed on any advertisements for dogs, cats, puppies or kittens from 1 July 2019, along with the animal's microchip number.
So, if you have that one litter with your pet, you will need to comply. This requirement is not only for breeders, anyone advertising to rehome their pet, even a 'free to good home', will be required to register with the PER and display their source number.    
Did you know … that from July 2018, pet shops will only be legally allowed to sell dogs and cats/puppies and kittens from rescue organisations, animal shelters and foster homes. You will no longer be able to purchase a puppy or kitten from a breeder at a pet shop. This will affect where your next pet may come from!
In conclusion
If you are in any doubt as to what you are required to do to comply with the local laws of your council, you should speak directly to someone in that department about your situation. Otherwise, you may find yourself being issued with a fine from your council for not complying with local laws, or find yourself breaching new legislation for the breeding of dogs and cats in Victoria.
[maxbutton id="2″ ]