Updates to the Sale of Land Act- what they are and what they mean for you
by Sarah Coombs
On 1 March 2020 amendments to the Sale of Land Act came into effect. These changes were put into effect to better protect purchasers of homes in Victoria:
Some of the more minor changes are:
A ban on public auctions before 1PM on Anzac Day. A fine for breaching this is up to $80,000.
The Sale of Land Act now offers further protections for purchasers buying property as part of a land bank scheme. A land banking scheme is where developers purchase large lots of land, divided it into smaller lots while still undeveloped, and offer it to investors. This was previously a unregulated area however now there are new requirements that mean funds must be held in trust pending the finalisation of the subdivision.
Under the changes, there is now a ban on some rent-to-buy arrangements and tighter regulations surrounding terms contracts. This included potential jail time for those who breach these laws.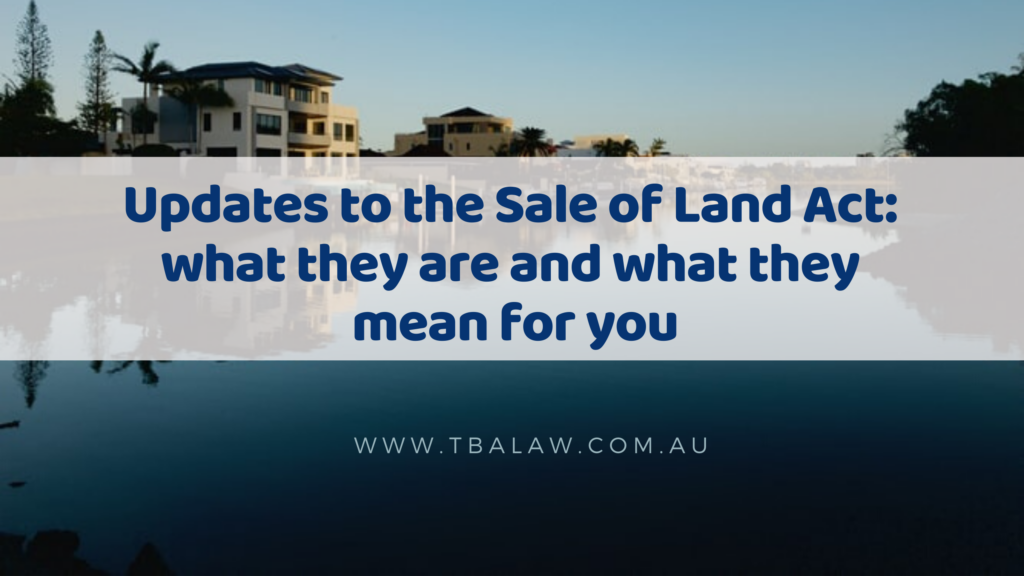 The change to the Sale of Land Act that will have the biggest effect is the new "material facts" clauses.
These clauses provides that vendors must disclose all material facts to a prospective purchaser as soon as someone shows interest in purchasing the property and agents cannot knowingly conceal these facts.
But what is a "material fact"? As a general rule, a material fact is a fact that would be important to a potential purchaser in deciding if they should buy the property, or buy the property at a certain price. Some examples of a "material fact" include:
The property was the scene of a serious crime, such as homicide or assault;
Building work done without a permit which is as a result illegal;
Prior tests that have revealed a defect in the structure of the building, infestation, combustible cladding, asbestos or contamination through prior use of the property;
The underlying cause of a defect is not apparent on inspections. For example, a crack in the wall may be obvious on inspection, but the fact that poor stumping is the cause may not;
Previous pesticide use on the property
Restrictions of vehicle access that are not apparent on inspection
Facts about the neighbourhood surrounding the property that may not be immediately apparent which may affect the purchaser's use and enjoyment of the land in future.
Vendor's can no longer require on a purchaser making their own enquiries and the due diligence checklists to avoid disclosure.
These material facts can be disclosed in various ways, including:
In the vendor statement of contract of sale;
In marketing materials;
On physically inspection of the property when visible;
By specific disclosure make to a potential purchaser of a property when negotiating the sale;
Before pubic auction commences.
Failure to disclose material facts can result in up to 12 months in prison or a fine of 120 penalty units.
Should you have any questions about how these changes will affect you, we recommend you call our office to discuss with one of our solicitors.