Consumer Guarantees – what services are guaranteed?
I have recently written about the Consumer Guarantees that suppliers provide to consumers under the Australian Consumer Law generally, and, in particular, in relation to the supply of goods. In this article, I discuss the Consumer Guarantees as they apply to services and service suppliers.
Firstly, a supplier of services guarantees that its services are provided with due care and skill. Second, if a consumer makes it known to a service supplier that the services are for a particular purpose, or to achieve a particular outcome, then the supplier guarantees that its service will be "fit for" that purpose or achieve that outcome. Note, however, that these "fit for purpose" guarantees do not apply if it was unreasonable for the consumer to rely on the skill or judgment of the service supplier to achieve the desired outcome or purpose. The guarantees also do not apply to professional services of architects or engineers. Finally, where no specific time is set for the supply of services, then a service supplier guarantees that its services will be supplied within a reasonable time.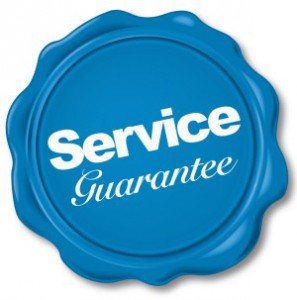 These Consumer Guarantees will apply to almost all services (exceptions discussed below) that are supplied to a consumer which cost up to $40,000, as well as many services which cost more than $40,000.
For services costing more than $40,000, the guarantees will apply if those services are normally acquired for personal, domestic or household purposes. Examples of these types of services include: (i) residential landscaping services (ii) legal services and (iii) mechanical repairs. However, the Guarantees do not apply to services costing more than $40,000 which are purchased for 'commercial' use. This may include services for the repair of factory machinery, or the installation of agricultural infrastructure.
In relation to services costing less than $40,000, the only types of services to which the guarantees will not apply are:
services for storage and transportation of goods for a person's business, trade or profession; and
insurance contracts.
Clearly, the guarantees will apply to the vast majority of services supplied to a consumer in Australia. Further, a supplier should be aware that any attempt to contract out of the guarantees for the supply of services under the ACL is unlawful. This means that a supplier of services cannot get a consumer to 'sign their consumer rights' away. Any such contract will be void to the extent that it purports to limit the effect of the Consumer Guarantees.
Written by Matthew Elvin
Contact us to arrange a chat with one of our legal professionals. It doesn't hurt to ask.
NOW ALSO AVAILABLE BY APPOINTMENT IN MELBOURNE