Legal Fees and
Pricing Options
Our goal is to take away the uncertainty around legal costs and always provide value for money.
We have created a range of different payment options so you can choose the best match for your circumstances, before we commence work.
(All fees quoted include GST)
All initial assessment appointments are $295

Wills and Estate Planning Fees
Preparation of a Standard Will:  $550 ($1,100 per couple)
Testamentary Trust Will:  from $750 (from $1,500 per couple)
Enduring Power of Attorney:  $250
Appointment of a Medical Treatment Decision Maker:  $250
Complete Will and Powers of Attorney Package: $880
Complete Will and Powers of Attorney Package (per couple): $1,250
Variation to Trust Deed or Superannuation Fund Trust Deed:  from $450

Family Law and Divorce Fees
Prepare and obtain Consent Orders (terms already agreed):  $3,670
Divorce:  $1,100 + Court and other fees
Inter-spousal Property Transfer:  $1,595 + PEXA fee $117.92
Private Mediation and Consent Orders: $15,000
(All prices are subject to individual cost agreements.)

Conveyancing and Property Service Fees
Property Conveyancing: $1,595 + PEXA fee $117.92
Conveyancing with Water Share:  $2,200 + water fees + PEXA fee
Business Sale/Purchase:  $3,000
Business Sale/Purchase (with food premises registration): $3,500
Commercial Lease:  $990
Husband/Wife or Family Transfer:  $1,595 + PEXA fee $117.92
Guarantor Advice and Solicitor's Certificate on mortgage documents:  $450

Subdivision: $880
Section 173 Agreement: $880
Stamp duty refund: $350
(Fees quoted include disbursements, but not lodgement fees)
Business and Commercial Services Fees
Prepare Commercial or Retail Lease:  $990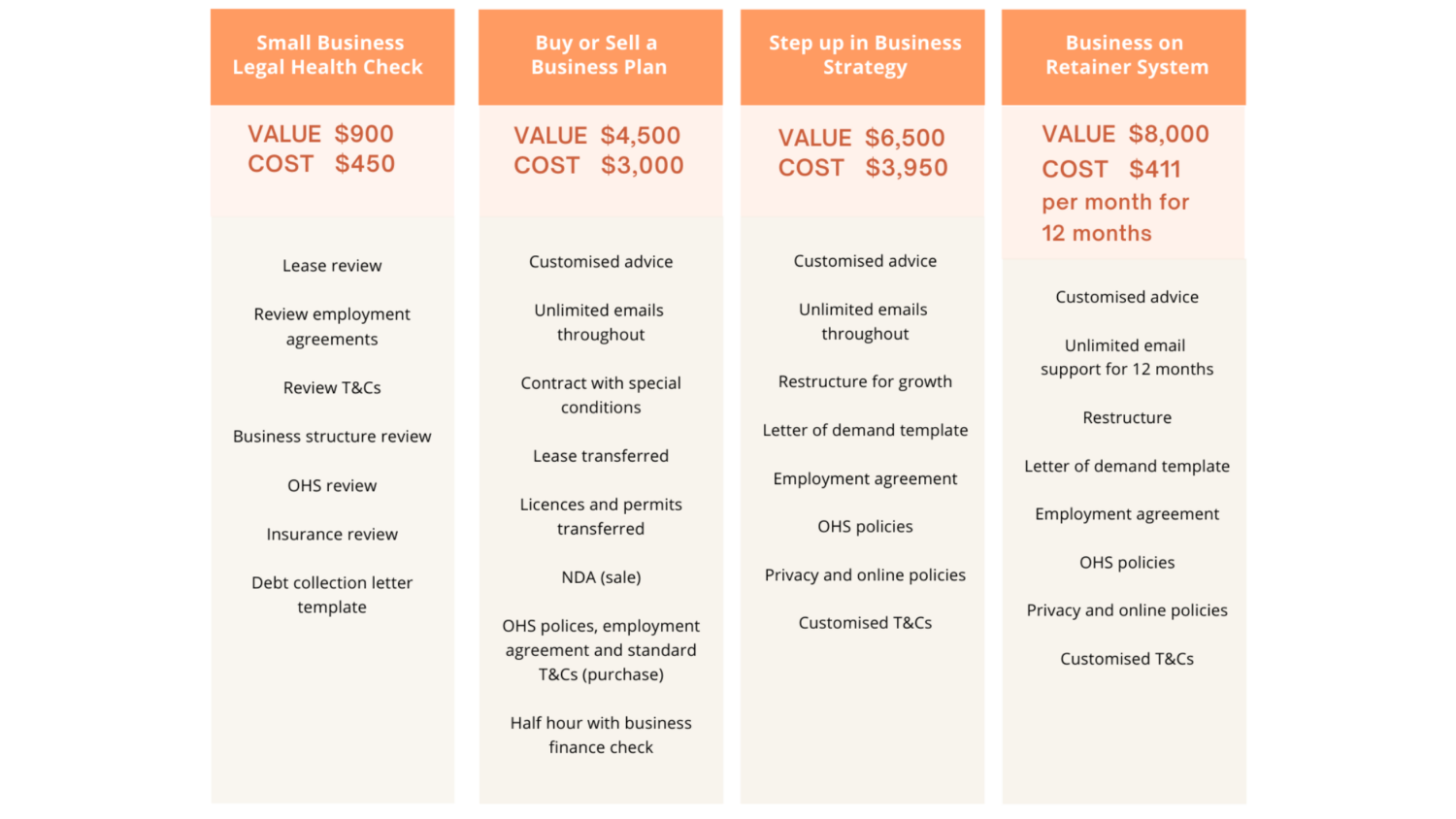 Prepare a Loan Agreement:  $500
Prepare a Loan Agreement and Lodge Caveat:  $750
Prepare Partnership/Shareholder/Unit Holder Agreement:  from $880
Set up a new Trust:  from $990 + stamp duty
Sale or Purchase of Business:  from $3,000
Letter of Demand (debt recovery):  from $750
Prepare a Transfer or Variation of Lease:  from $495
Set up a new Company:  from $1,100
You can choose from:
Fixed Fee Quote
A fixed quote will give you absolute certainty around how much a particular piece of work is going to cost. Because the fixed fee is based on a particular scope of work, if the scope of work changes, then the fee will need to be reviewed before work can continue.
Monthly Retainer Arrangement
A set monthly fee for all pre-negotiated legal services, no matter how much or how little legal work you require during any particular month.
Time-based Billing
Whilst often criticised, this is generally the best method for certain types of legal work (usually litigation). Billing frequency is negotiable, with an option of just paying disbursements until completion of the matter.