Let us take some of the burden off your small business
There are so many things that small business owners have to consider and comply with these days. Get the legal help you need.
Looking after your employees and your OHS obligations, making sure you're meeting consumer law requirements, protecting your intellectual property, planning for the future, there's so much to think about!
Yet many firms don't make this easy for small business. They don't understand how busy you are, and think you have time to meet with them for long discussions. At TBA Law, we are flexible in how we work with you. Most of what you need from us can be done over the phone, Zoom conference, and email. We have quick turn-around times, so that you can look at a draft document within a week of first talking to us, and we an move your project along quickly instead of delaying you.
Many law firms also think that small businesses have easy cash flow, and can pay an increased price compared to individuals. But we're realistic. We know that business is not a licence to print money. And we understand the risks involved of being in business, and help you to protect yourself – all under fixed fee arrangements so you will know what the cost is upfront.
Right People, Right Plan, Right Documents!
TBA Law provides assistance for a range of commercial and small business legal matters.
Legal advice if you are starting a small business
Advice in regard to business structures including partnerships, trusts and corporations
Business name registration
Partnership and joint venture agreements
Lease agreements
Guarantees and security documents
Bankruptcy and debt collection
Estate and succession planning
Advice in regard to business management and administration
Advice on legislative requirements, including corporate structure, governance and compliance
Corporate and commercial litigation in Court
Corporate mergers, acquisitions, joint ventures
Lending agreements
We can work with you online
Many legal problems, including the preparation of commercial legal documents, do not require extensive appointments and face-to-face consultations. The majority of the work can be done by emailing instructions, and emailing draft documents until the final draft is satisfactory to the parties.
If you want some legal advice on starting or selling a small business, estate planning or setting up a family trust, commercial leasing or employment matters, or many other areas of the law, it doesn't hurt to ask.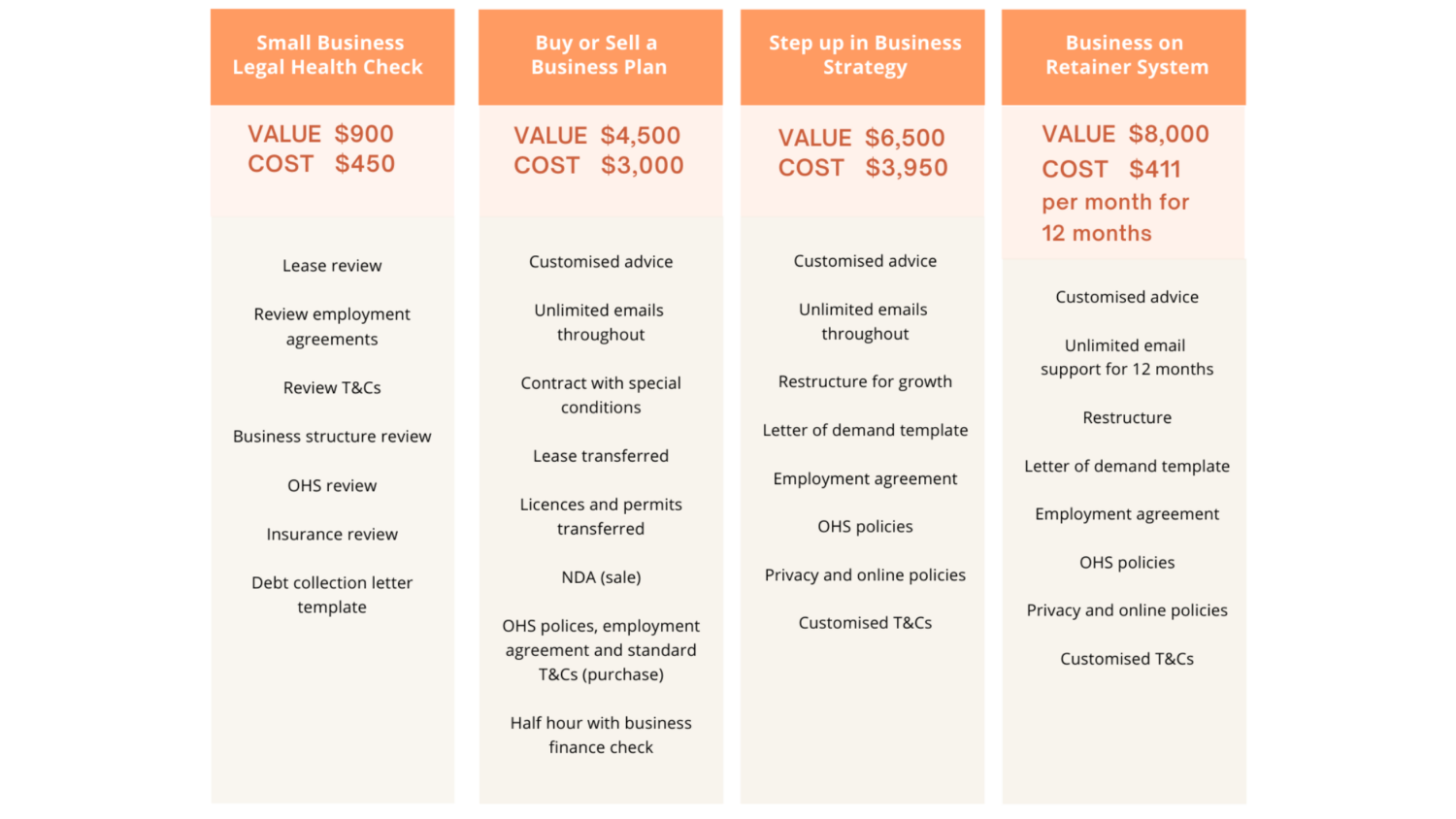 SUCCESSION PLANNING FOR YOUR BUSINESS
It is not nice to think about, but inevitably one day you will die. It may be after a long period of illness during which you are incapacitated, or it may be sudden. If you suddenly got sick or died, what situation would your family be left with?
If you run a business, one day you will want to retire, or be forced to leave due to a sudden event, age or illness.
Whether you sell up, retire and close the business, or step aside for someone else, it is very important to have a succession plan in place that makes the transition easy – not only for yourself, but also for your family or employees.
A successful succession plan for a business is made involving all family members as it will take into account not only provisions for your retirement income, but also the plans, aptitudes and existing assets of younger generations.
Download our Small Business Succession Planning Report
We all sometimes put off what we think is a difficult problem to address. However, in fact, some legal issues can  be quite quick and easy to resolve.
Just email us and ask how long it will take and how much it will cost. It is amazing how much can be done by telephone and email.