What would happen to your family, if something happened to you suddenly?
Free Webinar: Have Peace of Mind With Your Estate Planning
PREPARING YOUR WILL
Many law firms don't appreciate the value of a good Will and well-managed estate, because they usually profit from the errors and family fights after someone dies. This goes against the values of TBA Law, because we don't like seeing families torn apart after a family member dies. Instead, we want your estate planning to be done really well, so that you have peace of mind.
TBA Law will guide you through our one-on-one process, so we get your important information and instructions for your Will. In our second appointment with you, we will arrange for the execution of your Will so that it's legally valid. Once your Will has been executed, TBA Law can hold your original Will in our strongroom for safekeeping at no extra charge.
FREQUENTLY ASKED QUESTIONS
OUR 5-STEP ESTATE PLANNING PROCESS

Estate planning is an active process of re-evaluating the estate and working out a strategy to manage your legacy when circumstances in life change, such as:
newly married couples or those separating and/or divorcing
a change to the family's assets
approaching retirement
changes to superannuation, insurance policies, or taxation levels
the establishment of discretionary trusts
the growth or sale of a business, and
the death of a family member
Estate Planning goes beyond drafting a Will. It includes:
the assessment of assets
the assessment of digital assets
the assessment of debt and how it will be paid
the assessment of life insurance
the assessment of likely taxation
advice regarding the possibility of claims against your estate
the protection of assets
as assessment of superannuation and preparing binding nominations
guardians for your children, and
potentially setting up trusts and/or modifying existing trusts.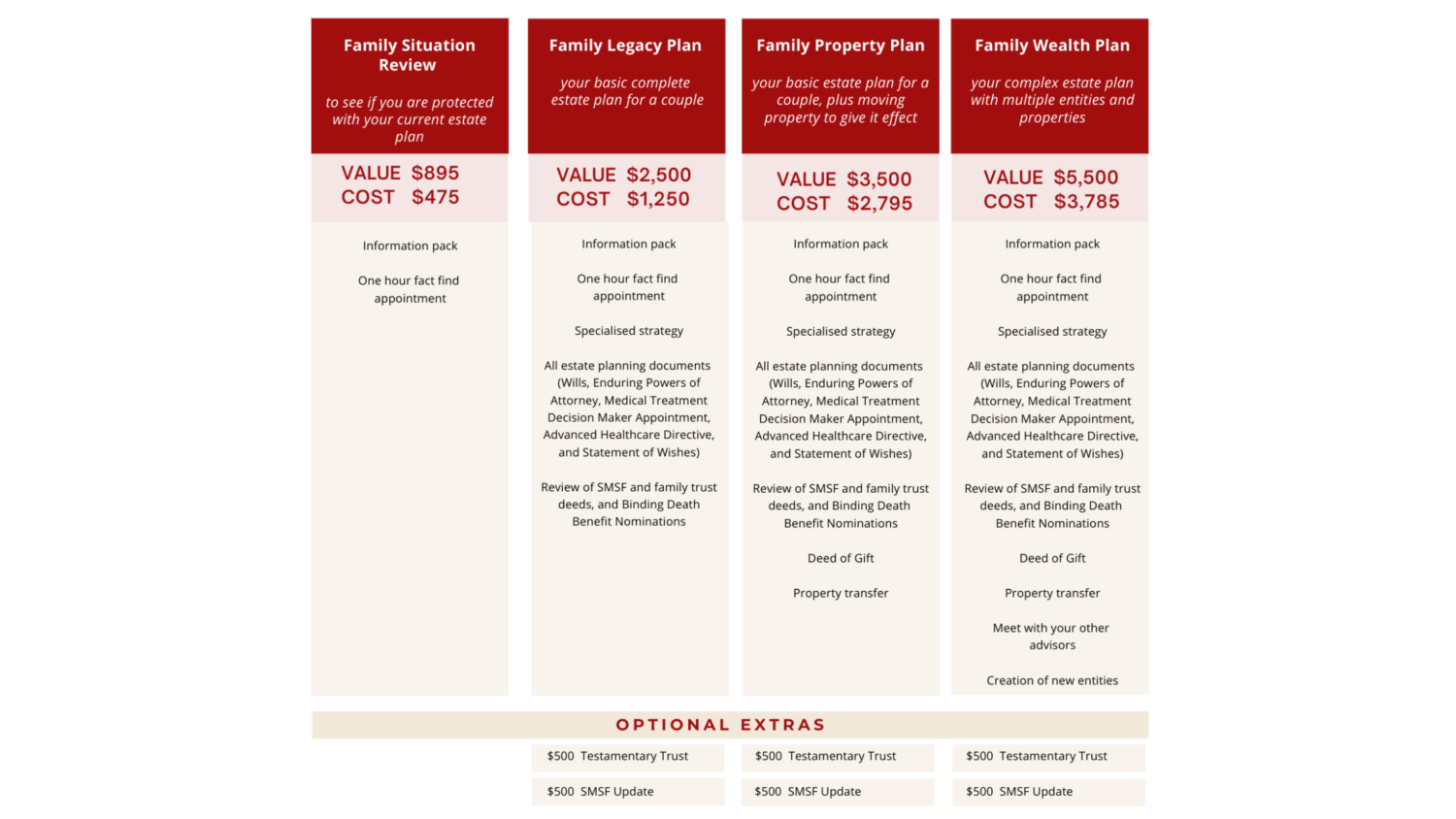 DECEASED ESTATE ADMINISTRATION
TBA Law can assist you with an application for a grant of probate or representation after the death of a family member, and then assist you through the administration and distribution of the estate.
Wills are regulated by the Wills Act 1997, and the administration of a deceased estate is regulated by the Administration and Probate Act 1958.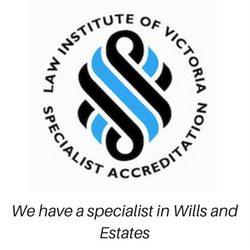 FREQUENTLY ASKED QUESTIONS
PROBATE AND ESTATE ADMINISTRATION
Dealing with a deceased estate, and applying for a grant of probate, is one of the more difficult challenges in life. From mountains of paperwork to legal jargon and simmering family disputes, they're the last things you want to deal with when you're grieving the loss of someone important in your life.
What is Probate or Letters of Administration?
A grant of Probate from the Supreme Court, or Letters of Administration, are both grants of representation. These give a person the legal right to administer the estate of a deceased person – the executor in the case of a grant of Probate, and the administrator in the case of Letters of Administration.
Why is Probate needed?
A grant of probate is not needed in every estate. If there are no estate assets that need probate, then a grant of representation is not required.
For an executor to deal with real estate (sell or transfer the family home, for example), they will need a grant of probate. Some shareholdings and bank accounts will also require probate before they are released or transferrable.
Let TBA Law help with:
interpreting the Will or dealing with intestacy
identifying estate assets and liabilities
obtaining valuations of estate property
applying for Probate of the Will in the Supreme Court
applying for Letters of Administration (if the Will is invalid or is lost)
collecting estate assets, and selling or transferring estate property
paying estate debts
advising about family and testamentary trusts
administering trust funds
distributing bequests and inheritances to beneficiaries
organising final estate tax returns
family mediation and negotiation
contesting wills and defending estate litigation.
SUCCESSION PLANNING FOR YOUR BUSINESS
It is not nice to think about, but inevitably one day you will die. It may be after a long period of illness during which you are incapacitated, or it may be sudden. If you suddenly got sick or died, what situation would your family be left with?
If you run a business, one day you will want to retire, or be forced to leave due to a sudden event, age or illness.
Whether you sell up, retire and close the business, or step aside for someone else, it is very important to have a succession plan in place that makes the transition easy – not only for yourself, but also for your family or employees.
A successful succession plan for a business is made involving all family members as it will take into account not only provisions for your retirement income, but also the plans, aptitudes and existing assets of younger generations.
Download our Small Business Succession Planning Report