Complete "How To" For Working With TBA Law
Responsive service, efficiency and accountability are certainly values that we hold at TBA Law. We operate from a place of a deep sense of wanting to provide you with a service that is in your best interests. We will always act morally and ethically, and in the best way we see we can serve you. We have a brochure about Working Together which outlines much of the content in this blog article.
Often it an be scary to contact a lawyer, because you don't know what to expect. But we will try to make this process as easy as we can for you. Whilst we want to help you with whatever matter you have, we are also a professional service, not a community service.
We do not provide a half hour free service, unless you have a referral from the Law Institute. All first appointments will cost $250, even if you do not proceed. We aim to give fixed price quotes where we can, and you can ask us to invoice you monthly or in stages. You can request an update on your fees at any time.
If you make an appointment, and fail to show up without letting us know at least 24 hours in advance, we will charge you a cancellation fee. Hence, when you book your first appointment, please make sure you have your credit card available to provide your details.
We tend to assume that people prefer legal work to be done as cheaply as possible, therefore we try to be as efficient as possible. However, if you want a higher level of service, you need to understand that you will pay for it. If you want a phone call every day, and you want us to do things for you that you could probably do for yourself, then do not expect the service to stay cheap.
A lot of our work can be done by telephone and email correspondence with you. We prefer email, because playing phone tag with multiple people each day wastes a lot of time. Please do not ring us to find out what is going on – we will always ring you when we need something. If you want an update, it is best to email, because then we can respond within 24 hours. Don't feel like this is because we value you less – it's not – but we must have the time to get all your work done.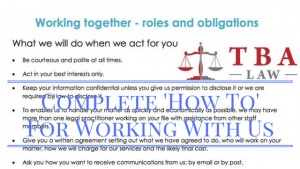 We cannot act when a conflict of interest arises. The conflict of interest may be with a former client of ours, or we may have an internal conflict of interest. It is in your best interests that we stop acting in such a case, because if we continued to act there may be a potential that we are juggling other interests above yours. It's not personal.
Lawyers are not puppets. We will give you legal advice, and if you choose not to follow our advice, we may choose not to act for you. We do not have to do what you want us to do, if it goes against our advice, our ethics or morals, or particularly against the law.
Your confidentiality is paramount. Nothing that is spoken about inside the office will ever be repeated outside the office. We won't discuss your matter with a third party unless you give us permission to.
Finally, as a female-only office, we expect to feel safe in our workplace. There has been times when clients or other professionals try to intimidate or standover us, but this will not be tolerated. If a client does this, then we will immediately cease to act for that person. If a party on the other side of a matter does it to us, then we will restrict correspondence to written and email forms, and they will not be welcome in our office.
We will work hard for you, if you facilitate us to do so.
[maxbutton id="2″]