When is a Family Law matter "Urgent" in the eyes of the Court?
by Sarah Coombs
Nearly every party who comes to us with a Family Law issue sees their matter as urgent. With so much stress involved, money on the line and children to look after, parties want things wrapped up as soon as possible. However, with the family courts dealing with such a high volume of cases, it is often unlikely that the Courts will regard your matter as urgent as you or your ex-spouse do.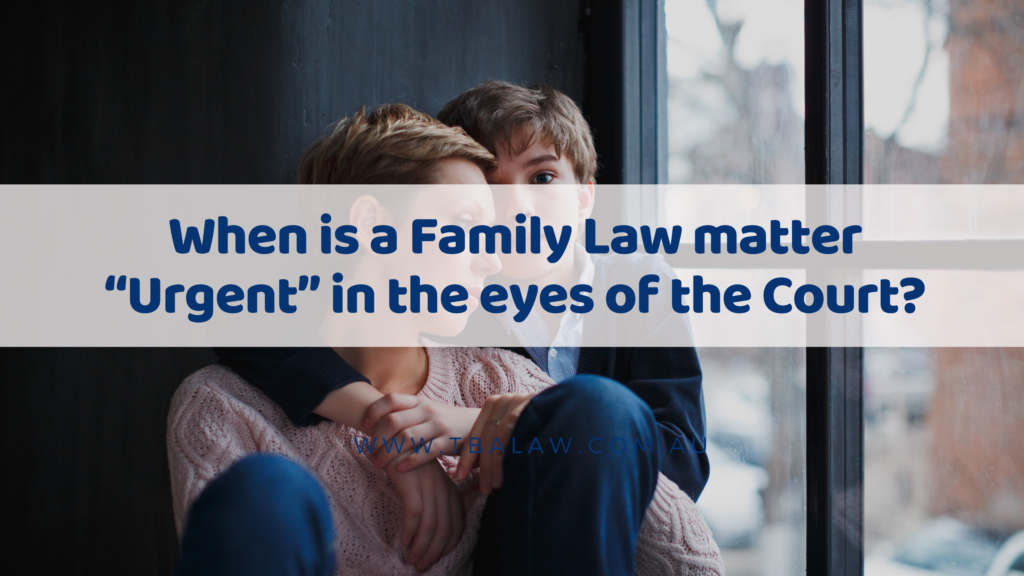 It is important to be realistic about how long things may take to resolve to help minimise frustration and disappointment to the parties. When making an initial application to either the Federal Circuit Court or Family Court, it can take months to get to the first hearing date, depending on the volume of work the courts are experience. There is an option to make an application "urgent", which means that first court appearance will be a lot sooner- normally in 2-4 weeks- which exponentially speeds up the court proceeds. So under what circumstances will the court consider an application urgent?
It is more common for a parenting matter, rather than a financial matter, to be considered urgent when making an application. A parenting matter will often be considered urgent if a pressing issue arises, particularly when it relates to the safety of one of the parties or a child who is the subject of an application. For example, two parents of a child are in dispute over a medical treatment a child needs to receive, then the court will likely consider that matter urgent. Or if one parent has removed a child from the care of another parent, a court would likely here the matter urgently to allow the child to be recovered as quickly as possible.
Financial and property matters can also be considered urgent. For example, one of the parties commenced reducing the asset pool by selling assets of the relationship and there is a danger by the time the matter reaches court there will be no assets left.
Regardless of whether it is a financial or parenting matter, the need for the matter to be heard urgently will be determined by the court on a case-by-case basis. This is done by the court reviewing a letter to the court and an Affidavit filed supporting Applicant's case and the need for the matter be to heard urgently. Although there are some specific types of cases that are as a general rule considered urgent, it will be dependent on the individual facts and circumstances outlined.
Urgent applications can be complex and stressful and it is recommended that anyone wanting to make an urgent application seek legal advice.
TBA Law offers high quality legal services and mediation in all aspects of Family Law. Get in touch with us at 1300 043 103 or at [email protected]