How to Quickly and Easily Avoid Disputes with Your Business Partner
Not having a buy-sell agreement with your business partner is a critical mistake that so many business owners make. Whether you are partners, shareholders in a company, or unitholders in a unit trust, you should have a buy-sell agreement.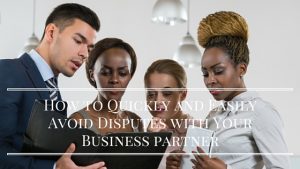 A buy-sell agreement won't completely avoid disputes between you and your business partner, but it will give a framework on how to easily resolve disputes or dissolutions. You will work this framework out together whilst the relationship is rock solid and fine, so neither of you can claim that it is unfair later.
Things that are sometimes assumed at the beginning of a business relationship, but shouldn't be, include:
the date the partnership needs to be reviewed
describing the partners or shareholders contribution and equity
establishing how the bank account operates and placing a cap on the cost of decisions
establishing a limit to personal guarantees
establishing a dividend and compensation policy
establishing a policy for a right to inspect the business records and get an audit
establishing insurance coverage for the partners, and dates when these should be reviewed
establishing provisions for partners:

if they wish to retire
if they wish to withdraw equity
if they want to expel a partner
if they want to sell to an outsider
if they lose their professional licence
if they go bankrupt

establish a method of valuing the share of a partner who retires, dies, or becomes permanently disabled
establish right and options for surviving and remaining partners
establish non-competition terms
establishing a dispute resolution process
If you deal with these things up front, then it is less likely that you and your business partner will have a major dispute or falling out that leads to litigation.