Special Conditions for Tenants
by Rochelle Manderson
As a tenant, your tenancy agreement is something you should be paying extra special attention to.
If you're under the Residential Tenancies Act and you're leasing a residential house, all you really need to know to begin with is that it must be in the prescribed form. You should be familiar with your rights as a residential tenant, with regard to bonds, pets, the condition of the property, and repairs. There is space in the prescribed form to include special conditions that are agreed to between yourself and the landlord. When you're looking at leasing commercial premises, you are looking at leasing under the Retail Leases Act. For this blog, we'll focus on commercial leasing.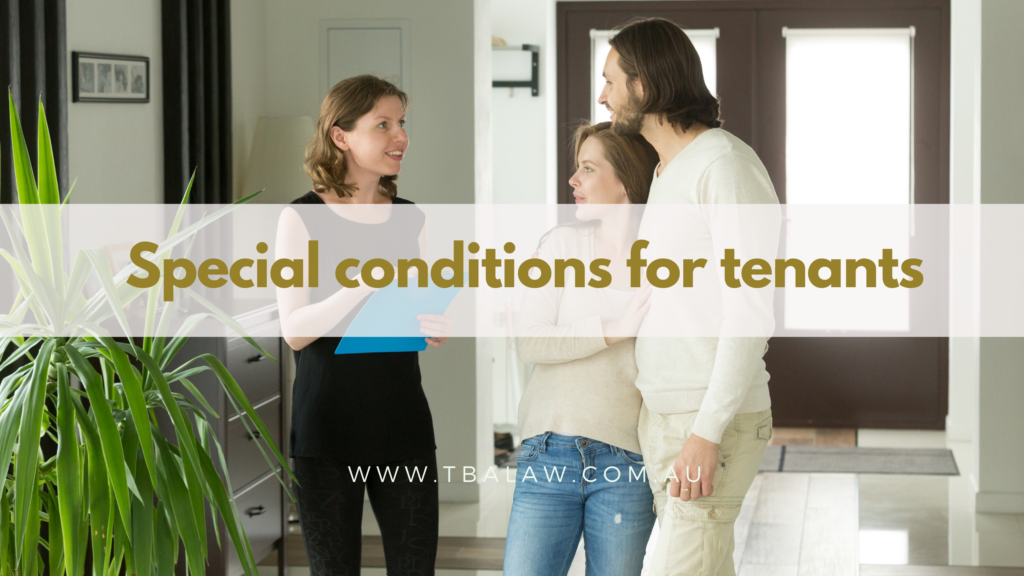 Sometimes tenancy agreements have extra terms and conditions in them.
They are either written in the contract alongside all the information you would expect to find, or as an attachment to your contract.
Here are some of the things to look out for in a tenancy agreement:
Post-Covid agreement
If you had any agreement going for reduction or waiver of, or deferment of payment of rent under the Omnibus Regulations for Commercial Leasing, then you need to ensure that yourself and the landlord are in agreement with what is going on with those payments, with what your rental payments are and with when they're due.
Special clauses
To reduce the chances of disputes or issues later, it's a wise move to closely scrutinise your tenancy agreement before you sign it, to make sure you know exactly what your obligations are and what rules and conditions you must adhere to.
You need to look at whether you have additional agreements in place with the landlord as part of what you have negotiated and agreed to before you sign the lease that is not included already in the general conditions.
Are you looking at putting up signage? Do you want to paint or decorate the premises in a certain way? It might be part of your agreement, you're going to be repainting with a neutral color or something along those lines. You might be providing a certain amount of money to the landlord for the landlord to do this, whatever your agreement is, that is really a good idea to have that noted down. Because if you note things down clearly and concisely, you're recording your agreement and you're reducing your chance of having disputes at the end of your lease.
If you're wanting to make changes or additions to your premises on the inside, it's a good idea to include tenant's works as a special condition in your lease.
If you have agreed with the landlord for the landlord to commence works before, or during your tenancy, it is also a good idea to include the landlord's works as a special condition- what they are, who's paying for them, when they need to be done by and to what standard they need to complete. This way everybody is clear about payment, about time, about what they are and what's allowed to be done.
Repairs and decorating
Furthermore, your tenancy agreement should be clear who's responsible for minor repairs. In some cases, landlords will be happy to let tenants carry out their own DIY tasks, in other cases, they'd prefer to do this themselves or get the letting agent or property management company they employ to arrange repairs for them.
It'll also be made clear whether or not you're able to redecorate – and whether you need permission for this – as well as rules on sticking posters up, garden maintenance, and adding your own furniture.
Rents, subletting, and giving notice
Include any rent relief in your special conditions. Include any rent-free periods, or payment of outgoings, or special adjustments to the rental price. Subletting should be made apparent in your tenancy agreement whether you're allowed to sublet the rental. This once again is a very individual decision, with each landlord having different stipulations for their tenants.
It's very difficult to break a commercial lease. Your tenancy agreement will also state how much notice you need to give if you want to end your tenancy. You'll still be liable to pay rent for the entirety of your fixed-term tenancy unless your landlord agrees to end the tenancy early or if there's a break clause in your tenancy agreement. Once again, this is another reason to study a tenancy agreement closely to understand what your rights and obligations are.
Because if it's in there, it's in black and white, you both sign to it. You're in a much stronger position if something goes wrong down the track. Same too for your landlord. If you've got this all in your special conditions, and you're both agreed to it, and both parties are fine with it, it just adds clarity. It takes away the chances of there being disagreements or even misunderstandings.
Prevention is cheaper than cure. Less stressful than cure. And if you can avoid a dispute, everyone's happy and isn't that good? But if despite your best efforts, you have a dispute or you're in concern right now, because you haven't had this information when you've entered a lease, you can look at the Small Business Commission, they offer low-cost mediation in many cases, and they could be a good option.
The other option you have is alternative dispute resolution. You can try and sort it out between yourselves with the help of a facilitative mediator for a fairly low cost. You can look at the Small Business Commission that offers mediation and provide the mediator, the venue. You can go about it that way and try to reach some sort of agreement. If you can't do that and you can't resolve it, you can attend Victorian Civil and Administrative Tribunal (VCAT). They have got jurisdiction over leases. That will require you to have been to the Small Business Commission mediation, to begin with, generally before you can even file your application.
Remember- a tenancy agreement is a contract.
The special conditions are part of your contract so read them just as thoroughly as the rest of the contract before you sign. If in doubt, contact a solicitor to look over your lease, and look at whether or not they can assist you in negotiating any special conditions you may need.
If you have questions or if you need assistance, get in touch with our team at 1300 043 103 or send an email to [email protected]