The Truth About Divorce
by Lajita
It doesn't matter whose fault it is – in Australia, divorce is no longer fault based.
There are very few grounds to prevent a divorce being granted. If there is a jurisdictional argument as to which country should hear the divorce proceedings, or if the date of separation is disputed then these issues will need to be determined by the Court prior to the divorce proceedings.
To file an Application for a divorce you must:
prove that the marriage is irretrievably broken, that is, that you have been separated for a period of at least 12 months, and

have been married for more than 2 years, or if you haven't been marred that long, you must attended the required counselling with the Family Court
To be able to apply for a Divorce, at the date of filing at least one spouse must be an Australian citizen and domiciled in Australia or a resident in Australia for 12 months. You can apply for divorce if you were married overseas, as long as either you or your former partner are Australian citizens or residents, or regard Australia as your permanent home. You will need a copy of your marriage certificate.
An application can be from either party (single application) or a joint application. When it's a single application, you are required to serve the application onto the other party. If you do not know the whereabouts of your spouse, you can apply to the Court for the divorce to go ahead. However, you must show the Court that you have tried to contact your spouse. If this is necessary, it will take longer to get the divorce and will cost more.
It will take at least 4 months to obtain a final Divorce Order (formally known as a Divorce Certificate), longer if there are difficulties in serving your spouse. You shouldn't plan a remarriage without allowing enough time for the divorce to be finalised.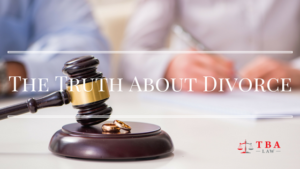 Where there are children of the relationship under the age of 18 the Court might not grant a divorce unless proper arrangements have been made for their care and welfare and those arrangements have to be explained to the Court. All children that were treated as a family member immediately prior to separation are included as children of the marriage. This includes step children and foster children. The arrangements for all children have to be disclosed.
You do not have to be divorced to finalise property or parenting arrangements. You can make arrangements about property and parenting issues at any stage.
With regards to changing your name, you can use your maiden name even before your divorce if you want – just revert to using your Birth Certificate as your proof of identity instead of your Marriage Certificate. Changing your children's names is more complex and we can advise you about that if you wish.
Finally, don't forget – your divorce will have an impact on your will and your superannuation. You should seek our Accredited Wills and Estates Specialist, Jacqui Brauman for advice about a new Will and nomination of a beneficiary for your superannuation and life insurance.
[maxbutton id="5″ ]