Ultimate Moving Checklist
Moving house is exciting but it can be equally as stressful if you're not prepared. Whether you're travelling overseas, moving interstate or just headed down the road, being organised is key to an efficient and easy moving experience. Nothing is worse than relaxing into your new home, trying the remote and realising you forgot to switch the power over.
To help you on your way, here are some ultimate moving checklist tips you can follow to ensure your upcoming move is safe, smooth and exciting one.
Early before your move
Two months before you need to move to a new house (or earlier) is the best time to put your planning hat on. Around this point, here's what you should focus on:
Book your removalists. It's a good idea to lock in removalists early for a safe, affordable and stress-free move.
Organise transport. Need to move your cars or vehicles? What about pets?
Book secure storage. Need temporary storage? Organise it early for an affordable price. Kent offers a range of secure storage options that make storage easy.
Plan your household items. Itemise everything to move, and make an inventory.
Collect packing materials. This is the trick to a safe move. Grab the right materials early.
Book cleaners/handymen. Repair or get your heavy cleaning underway now.
Plan a timeline – Record your schedule as you go for easy reference.
Arrange for utilities to be cancelled and reconnected at your new residence. This usually includes water, electricity, gas and telephone.
Just before your move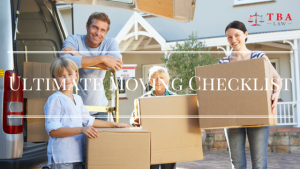 Tick these items off with 2-4 weeks to go. It will lighten your load on moving day and give you time to fix problems if they arise:
Start packing. Correct packaging takes time – do it yourself or call in professional packing services to knock it out fast.
Change addresses. Change ATO address, vehicle registrations, bank details and register with relevant councils.
Notify & Book utilities. Swap over utilities like electricity, water and gas. Cancel old ones and book for the new place.
Organise mail re-direction. Contact Australia Post to notify them of your new spot.
Start cleaning. Now's the time to get those walls scrubbing!
Moving Day
If you've followed the above, moving day should run pretty smoothly on its own. However, there's still plenty to do. Here are the key items to plan for:
At your old home:
Arrange household items. Placing boxes and furniture close to doors allows for easy access for removalists (or yourself).
Brief your removalists. Show them around and confirm your details when they arrive.
Mark off an inventory. Tick off your items as they're loaded.
Finalise old house. Check utilities, ensure nothing is left behind, and drop keys to agents.
At your new home:
Prepare for unpacking. Clear access points, give removalists a tour and check items off as they unload.
Fill out the condition report. For rental properties, make notes on the house condition.
Re-assemble items. Start with beds (so you can sleep that night) and move on.
Setup essentials. Sort out fridges, food, washers and dryers (and maybe a TV).
If you have followed our ultimate moving checklist, your moving experience should be smooth and stress-free.