Purchasing your next best friend and how to avoid a scam!
By Rochelle Manderson
Avid readers of my blog will know and recognise that I have a personally love of dogs, and a keen interest in the law surrounding animals and pets. As a hobby breeder myself, I see firsthand the issues caused by scams, as do many of my friends who also breed recreationally. I am also aware of the issues as a legal practitioner in today's environment.
To begin, it must be noticed that a scam can take any form. Essentially, a scam occurs where one party intentionally deceives another into making a payment to them, or giving certain details to them, for the deceiving party's personal gain. The majority of us are aware of scams that come via telephone or email, asking us to click a link (whereby our identities can be uploaded and stolen), or that payments are required. These can often take the guise of an official organisation to try and give credibility to the scam. Scams can be everything from clumsy and obvious to smooth and convincing, and many people have lost their money or their data as a result.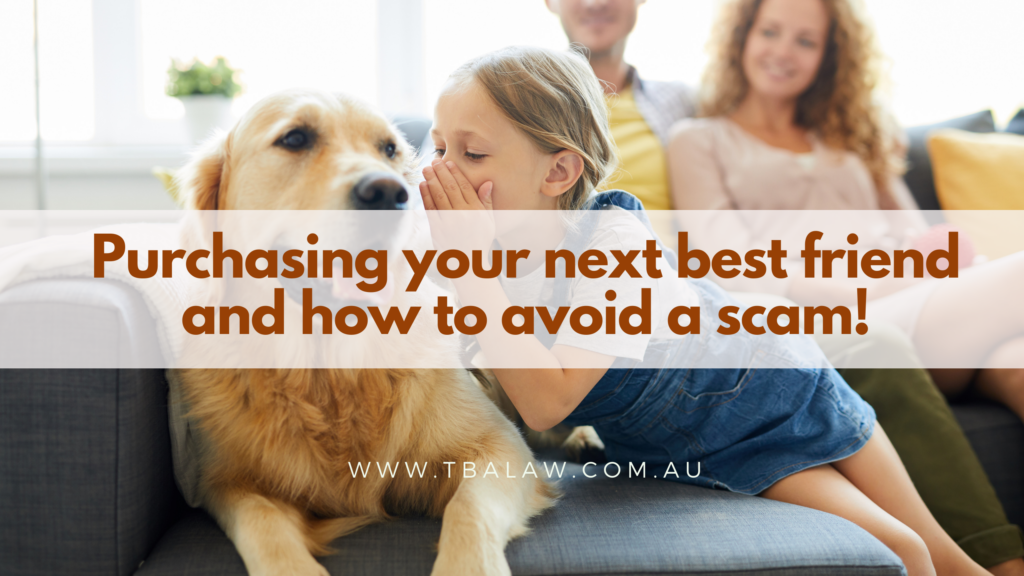 The ACCC have a Scam Alert hotline, and you can try and recover damages through the Court system, however the best option is to be aware and to avoid being scammed in the first instance.
The purchase of pets, puppies, kittens and other such animals, has become quite expensive and this appears to have led to the emergence of scams surrounding the purchase of puppies and other such animals. Pet scams have been increasing substantially since early 2020 where COVID-19 restrictions whereby people were prohibited from travelling far from their residence, and could not visit the new pet and breeder prior to purchase. It also prevented people from being able to collect their pet in person, forcing people to have to trust a vendor to send their pet to them. These restrictions on travel have coupled with the increase in demand for pets, as many people became socially isolated from family and friends and reached out to purchase a pet as a companion. This created a perfect storm for pet scams.
So what can you look for to avoid falling victim to a scam?
I will discuss this topic with reference to dogs and puppies, however if you are looking at purchasing a cat, rat, bird or reptile, you should contact the controlling body for that breed or species.
With puppies, there are certain things you should look for in an advertisement. There must be a PER Source Number. This is regulated by the State Government. You can visit https://per.animalwelfare.vic.gov.au/search/ and look up the Source Number on the advertisement you are interested in, and some basic information will be displayed. This should match the details you see in the advertisement.
If you are purchasing a purebred pedigree puppy, you will also see a Breeder/Kennel Prefix and a membership number in the advertisement. You can visit the Australian National Kennel Council website at www.ankc.org.au to conduct a Registered Breeder Search. This search function is located on the home page of the site, and you can type the prefix, the membership number, or both. This will instantly tell you if this is a registered breeder, giving you a second verification point to try and ensure the advertisement is legitimate.
You can also complete a Google Image search. If the photo/s  of the puppies provided are displayed as a stock image in a google image search, you should be very aware and walk away! A legitimate advertisement will in all likelihood include a photo of the actual puppies. A stock image is generally used when there are no puppies as the advertisement is a scam.
However, be aware of the latest scam of 2021! Scammers are taking the Breeder Prefix, Source number and membership number from legitimate advertisements from registered breeders and including these in their scam advertisement as if these details are their own. An ANKC registered breeder will NEVER sell a cross bred puppy, and a cross bred puppy or 'designer dog breed' will NEVER have an ANKC prefix as they are not recognised by the ANKC and cannot be registered with them.
And although this has not occurred yet, think ahead if you are looking at a rescue dog or cat. If scammers are now impersonating registered breeders, it is only a matter of time before they will begin impersonating rescue groups and organisation, with some rescue dogs being sold for upwards of $1,500.00. There is money is 'selling' rescue animals now, just as there are in selling puppies and kittens, so do your due diligence on your rescue organisation if this is where you are looking for your next pet.
Finally, speak to the breeder. Email and messages are fine, but you also want to speak to the person you are purchasing from. If you can attend the premises to collect your puppy, you should always do so. Unless you know the breeder personally, nothing is safer than attending the premises, paying your purchase price to the breeder and carrying you puppy to your car to drive home. It is well worth you time to do this, even if you spend much of the day travelling. This is true of any pet, be is a puppy, kitten, or bird, whether you have sourced them from a breeder or are looking at a rescue organisation.
Best of luck with your new best friend. If it all goes wrong and you are the victim of a scam, contact the ACCC via telephone or their website and report the scam, and speak to your solicitor, as in some instances, you may be able to take legal Action to try and recover your funds.
However, prevention is always better than cure, so do your due diligence and be aware!
Do you need more information? Get in touch with our team on 1300 043 103 or at [email protected]
WATCH our video to learn more about pets, local laws and puppy scams.