Verification of ID
by Jacqui Brauman (Oct 2015)
There are some big changes coming through for the process of conveyancing. They have been in the making for a couple of years, and are now of the verge of implementation – national electronic conveyancing.
This will affect anyone buying, selling or transferring property.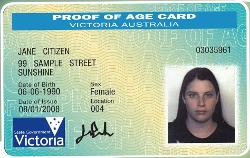 As part of the electronic conveyancing, solicitors and conveyancers will need to electronically sign documents for clients. This will require the client to authorise the solicitor to do that, and also for the solicitor to verify the identification of the person they are signing for. This sounds fairly logical.
But, the Registrar at Land Victoria has decided that he wants paper transactions to be consist with electronic transactions. So, from 9 November 2015, all parties involved in traditional paper conveyancing transactions will also need to go through the verification of identity process.
This is a new burden for those who have done the right thing all along, because the regulation is for the minority of people that have committed fraud.
The industry is still uncertain about how we are going to meet these requirements:
are solicitors and conveyancers going to verify the identity of their own clients directly?

if we undertake our own verification of ID, we need to keep all the records for 7 years, and increase our professional indemnity insurance, so this is a big consideration,

how long does the certification of identify last? For example, if someone is selling a house and buying a new one, can we use the same verification of identification for both transactions?

there is different information out there – one source says that the verification of ID will last for 2 years, another says 1 year, and another says it has to be done for each transaction, so which do we follow?

what documents actually have to be provided to Land Victoria, and therefore will more settlements fall over because proper documentation is not ready?
Australia Post, who has been able to do passport applications and verify identity for that process for years, is at least helping by providing a verification service. TBA Law will be using Australia Post to verify identities, rather than doing it in-house (at least initially). I believe that the Australia Post verifications only last per transaction, so all we will be doing in-house is verifying the verification (!!) so that it will last 2 years instead.